Green Valley Full-Service Tire Shop
Get the perfect tires for your vehicle. ASE-certified pros are here to help! At BRAKEmax Tire & Service Centers, you can receive comprehensive tire services, along with special savings. Besides getting the best tires for your needs, our experts also offer:
Tire rotation

Tire repair

Wheel balancing

Tire pressure monitoring system (TPMS)
If you've got a flat tire, you can get yours fixed for free. Searching for "tires near me?" or "tire discounts near me?" You've found them! Book an appointment online for Green Valley auto repair and check our current discount coupons before you bring in your vehicle.
When to Have Your Tires Serviced
As you're driving, if it feels as though your tires are wobbling, this is a red flag. You will probably feel a bouncing motion and the steering wheel may move. Or you could feel a vibration that's new. Another sign of bad tires is when you can't gain as much traction on wet roads and perhaps even hydroplane. A new noise may also be a clue, especially a humming sound that just won't quit or the thumping sound of a flattening tire. 
In many cases, tires can be repaired and, in others, they will need to be replaced. Our professional team can take a look and present you with your options. 
Tire Services Available in Green Valley
Tire Repairs
Our trained technicians follow Rubber Manufacturer Association (RMA) guidelines for safe and effective tire repairs. This means that unsafe practices, such as the old-fashioned "plug" approach, are not used. Instead, we internally apply a plug-patch to seal the lining and fill any voids created when the tire was damaged. 
Tire Rotation and Wheel Balancing
These processes help to extend tire life and give our technicians a chance to inspect the condition of your tires. When we spot issues that can have a negative impact on their lifespan, early on, we can focus on minimizing any damage. 
Tire Pressure Monitoring System (TPMS)
This measures your tires' rotational speed to check if they have appropriate air pressure. Because most tire failures occur on underinflated ones, this check is crucial.
Take Advantage of Our Concierge Services
If you live within three miles of a BRAKEmax location, you can benefit from our no-cost concierge service. We'll pick up your car, perform the needed services, and then return it to you, free of charge for the concierge benefits. 
Your safety, security, and peace of mind are front of mind for us! So, we focus on doing everything we can to make your life easier, including to help eliminate uncertainties. It's our sincere hope that our delivery program demonstrates that commitment as we help you to get back safely on the road as quickly as possible. 
Choose BRAKEmax Today
Whether you need replacement tires or tire services, we're Green Valley's top choice.
Concierge Services
We understand how imperative it is that your vehicle is in proper working order. Because of this, we are introducing a new program designed with your security in mind.
The BRAKEmax Delivery Program is a no-cost concierge service to help you eliminate unnecessary trips outside your home. We will pick up your car from your location (within three miles of BRAKEmax) and return it to you free of charge after services have been completed.
Book Appointment
Your peace of mind is as important to us as it is to you. We promise to continue to do everything in our power to eliminate uncertainties and make your life easier. We hope that the BRAKEmax Delivery Program demonstrates our commitment to you, ensuring that you can safely be on the road when you need to be.
BRAKEmax is Tucson's top choice for tire services and repairs including tire rotations and wheel balancing. Our ASE-certified technicians use state-of-the-art tire equipment to efficiently and safely repair or replace your tires at a reasonable price. From road-force balancers, computerized alignment machines and procedures developed by the Rubber Manufacturers Association, there is no better place to get your tires serviced.
BRAKEmax is also your Tucson headquarters for trailer tires. Whether you need tires for your boat trailer, RV trailer, mobile home, or horse trailer, we have a wide selection of name-brand tires to keep you rolling. Make us your first stop when it's time for new trailer tires.
90.0%
WOULD REFER FRIENDS AND FAMILY TO US
BRAD R Customer since 2020

Good group of guys there and was driven back to work after dropping it off

CHRISTINA J Customer since 2020

First time at this new location near Costco Marketplace, Tucson. I asked to expedite oil change service in order to accommodate another appointment within the hour. They did everything to get me in and out quickly. Thoroughly inspected vehicle and found several additional recommended services from which we prioritized service and follow-up. I did not feel pressured and felt there was a strong customer care ethic in place. Clean and comfortable waiting room. I even think my car came back to me cleaner than when I left it. Very satisfied with service and would return and recommend to others.
Book Appointment
Tire Rotation 
Proper tire rotation helps to extend the life of your tires. Consistent rotations allow tire experts to inspect the tires for adverse conditions that can negatively impact their lifespan. Catching these conditions early can minimize their damage to the tire.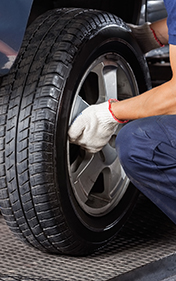 Tire Repair 
BRAKEmax associates follow the guidelines provided by the Rubber Manufacturers Association (RMA) for effective, safe tire repairs. These guidelines stipulate how tire seals and plug-fills must be done.
Wheel Balancing
To extend the life of your tires, it's important to have your wheels balanced. Unbalanced wheels wear down your tires.
Tire Pressure Monitoring System 
Also known as TPMS, this system measures the air pressure or rotational speed of your tires to determine whether they have the proper amount of air pressure. Since most tire failures occur due to under inflation, it is important to make sure this system is working properly.
Do your tires need to be serviced? Make an auto appointment at your nearest BRAKEmax location today.