Tucson's #1 Brake Shop for Brake Repair and Maintenance
No Matter What Brake Service You Need, Our ASE-Certified Mechanics Can Help!
There is no doubt that your brakes are one of the most important systems in your vehicle. You rely on them every time you drive, usually without thinking. Unless there are unusual noises or a reduction in performance, the brake system is often one of those things that you don't give a second thought. But, when there is an issue, you need a local brake shop you can trust. 
If you are in the Tucson area and are looking for brake repair, brake replacement, or brake maintenance for your vehicle, look no further than BRAKEmax Tire & Service Centers. Our Tucson ASE-certified brake mechanics can take care of all of your vehicle's brake needs, no matter if you drive a car, truck, SUV, or van.
Your Tucson Brake Repair Experts
BRAKEmax Tire & Service Centers are the trusted professional brake shops for Tucson-area drivers. If you feel like your brakes are not performing like they used to, bring your vehicle in today
and have your brake system inspected by one of our specialists. Not only do we look over your brakes for free, we also offer a full range of brake services that help to keep your vehicle driving safely on the road.
Whether your vehicle just needs minor brake maintenance work or a full brake pad replacement, we can help! Our expert team offers all types of brake repair and maintenance services, including:
Installation of new, high-quality brake pads or shoes (depending on the type of brake system)

Brake rotor or drum resurfacing

Brake fluid flush and fluid replacement

Lubrication of brake calipers and hardware

Wheel bearing repacking (if applicable)
Remember, any type of brake service should only be performed by an expert mechanic, and we only employ the best. We can accurately pinpoint any brake system problems, show you exactly what work needs to be done, and perform top-quality brake repairs or maintenance services.
With the expert service at BRAKEmax Tire & Service Centers, you can help extend the life of your vehicle's brake system and be confident in its safety on the road. This is all backed by our unmatched customer service, making you feel right at home while our expert brake mechanics perform your brake repairs efficiently and professionally.
BOOK A BRAKE INSPECTION APPOINTMENT
Professional Brake Pad Replacement
Have you heard a loud squeaking or grinding noise when pressing the brake pedal to stop? We have all experienced it personally or have heard another car making that sound. It can be both alarming and frustrating. In many cases, the problem is often the brake pads. Brake pad replacements are an easy fix!
The frequency of brake pad replacement varies depending on the type of brake pads, the type of vehicle, and your driving habits. In general, brake pads usually need to be replaced between 30,000 and 35,000 miles (or sooner if you start to notice issues).
BRAKEmax Tire & Service Centers offer professional brake pad replacement. We will get you back on the road safely and completely noise-free.
Routine Brake Inspections Help Extend the Life of Your Brake System
Having a regular in-depth brake inspection can help extend the life of your vehicle's brakes and ensure that any issues can be detected and addressed early. 
Some vehicle manufacturers include brake service in the recommended maintenance schedule, while others indicate that the brakes should be inspected at regular mileage or time intervals. 
Typically, the brake system should be inspected every 5,000 to 7,000 miles or every four to six months, whichever comes first. A good habit to get into is to have your brake system inspected when your vehicle is in the auto repair shop for an oil change and tire rotation. But, you should have your vehicle inspected right away if you are experiencing any braking issues (see more on this below). 
How often brake service is required varies. The rate and severity of brake wear can be impacted by the type of brake pads being used, your driving habits, and driving conditions, among other issues.
So, bring your vehicle to your closest BRAKEmax Tire & Service Centers location today for a brake inspection. Our Tucson mechanics will examine both the hydraulic components and friction materials including the: 
Master cylinder

Brake fluid level and condition

Brake lines/hoses

Brake pads (or shoes)

Brake calipers

Brake rotors
Then, we'll explain the brake repair or maintenance that may be required to restore optimal braking capability.
Signs That a Brake Repair Service May Be Needed
Knowing the warning signs of brake trouble will help prevent a small maintenance issue from turning into a major brake repair need. It will also help prevent the chance of experiencing dangerous total brake failure while driving. 
Some of the red flags that you should be aware of that point to a possible brake system issue include:
The brake warning light is illuminated on the dashboard

You are hearing loud, unusual sounds like squealing, grinding, or thumping

Reduced resistance in the brake pedal when it is pressed

You can feel the vehicle pull to one side while braking

There is yellow brake fluid leaking from underneath your vehicle

You can feel a vibration in the brake pedal while braking

You need more distance to bring your vehicle to a stop
If you have noticed any of the above issues, bring your vehicle to your closest BRAKEmax Tire & Service Centers location for a brake inspection ASAP.
Expert Brake System Maintenance Services
Sometimes, you may notice your vehicle's brake system not performing as it should. Or it may just "feel" different or you may notice unusual sounds. In many cases, these occurrences don't necessarily signal a need for significant brake repair and can be addressed with brake system maintenance services. 
Our brake mechanics are experienced in all aspects of brake system maintenance service, including: 
Realigning the Brake Calipers
Sometimes, a high-pitched screeching sound when braking is caused by the brake pad and rotor improperly rubbing against each other. This is due to a misaligned brake caliper. In this case, we'll inspect the brake system and realign the calipers as needed, stopping the sound and restoring proper brake performance.
Turning the Brake Rotors
The brake rotors are one critical component of the brake system that help to properly bring your vehicle to a stop. But, as with many metal parts, they will wear down naturally over time as they are used. This will start to cause a reduction in your stopping power. Also, excessive heat from hard braking can cause the rotors to warp. 
One way this problem is remedied, as long as there is still enough metal to do so safely, is to resurface the rotors, aka "turning". Turning the rotors involves placing them one by one on a lathe and using an extremely sharp bit to cut into the surface. This process creates an even, smooth surface again, enabling your brake pads to properly generate the necessary friction to stop your vehicle.
Here at BRAKEmax Tire & Service Centers, our expert brake mechanics can determine if your rotors can be safely and effectively "turned" or if it may be time for replacement.
Bleeding the Hydraulic Brake Line
Sometimes, small amounts of air can become trapped inside the hydraulic brake line over time. This causes a "spongy" feel in the brake pedal and the brakes won't fully engage until the pedal is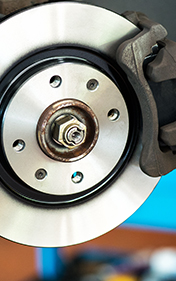 almost to the floor. If you notice this dangerous issue happening, it needs to be addressed ASAP. Large amounts of air in the brake system can lead to complete brake failure.
That is why, sometimes, purging the air from the brake line, also known as "bleeding the brakes", is necessary to ensure the safety of your vehicle. This enables your brakes to properly stop your vehicle as soon as you press the brake pedal. 
Our brake experts can properly bleed your brakes to ensure the system is in top shape.
Brake Light Bulb Replacement and Wiring Service
How many times have you been driving behind someone who is slowing down, yet one or more of their brake lights is not working? You feel frustration setting in and even sometimes almost rear-end their car. The last thing you want is to be the person causing the frustration or even causing an accident due to a broken brake light.
All of this can be avoided with regular brake system maintenance. We can check your system's wiring, replace any blown brake light bulbs, and ensure that the system is in proper working order, helping to keep you on the road worry-free.
For the Top Local Brake Shop, Visit BRAKEmax Today!
Tucson-area drivers trust BRAKEmax as the top brake shop for brake service as well as any other auto service needs you may have, including everything from routine oil changes to in-depth transmission repair. Our ASE-certified master technicians are equipped with state-of-the-art, professional tools to properly and efficiently service your vehicle, all while providing unbeatable customer service.
Schedule your brake service appointment online today for your closest BRAKEmax location!
BOOK A BRAKE INSPECTION APPOINTMENT
Concierge Pick-Up and Drop-Off Service
We understand how important it is to have a working vehicle to get you to the places you need to be. Having to wait around at an auto repair shop can be extremely inconvenient. This is why we offer our concierge pick-up and drop-off service.
With this no-cost concierge service, we'll pick up your vehicle from your location (within three miles of a BRAKEmax location) and return it to you free of charge after services have been completed.
Your peace of mind is extremely important to us. That is why we strive to do everything in our power to make your life easier and eliminate uncertainties. We hope that our concierge service demonstrates this commitment, ensuring that you can safely drive your vehicle when you need to.
90.0%
WOULD REFER FRIENDS AND FAMILY TO US
BRAD R Customer since 2020

Good group of guys there and was driven back to work after dropping it off

CHRISTINA J Customer since 2020

First time at this new location near Costco Marketplace, Tucson. I asked to expedite oil change service in order to accommodate another appointment within the hour. They did everything to get me in and out quickly. Thoroughly inspected vehicle and found several additional recommended services from which we prioritized service and follow-up. I did not feel pressured and felt there was a strong customer care ethic in place. Clean and comfortable waiting room. I even think my car came back to me cleaner than when I left it. Very satisfied with service and would return and recommend to others.
Book Appointment
Frequently Asked Questions
Along with the squealing or grinding sounds described above, there are several other signs of brake trouble of which to be aware. These can include:
Extra distance needed to slow or stop your vehicle

Pulling toward one side of the road when you brake

Less resistance in your brake pedal

Brake pedal vibrations

Yellow puddles of brake fluid beneath your vehicle

Dashboard indicator lights (in some vehicles)
As soon as you spot any of these problems with your vehicle's brakes, there's no time to waste. Set up an appointment at your nearest BRAKEmax brake shop for a complimentary brake inspection!
Along with squealing, grinding is one of the two most common sounds associated with brake problems. Unlike squealing brakes, grinding sounds don't happen by design. Instead, they can point to anything from debris in your brake system to completely worn brake pads. Grinding brakes can be even more serious than squealing brakes. Not taking care of this problem right away could significantly damage your braking system. Make sure to bring your vehicle into a BRAKEmax brake shop for immediate brake repair service when you notice this issue.
As a Tucson, Arizona-area driver, there's no doubt that you have a busy schedule, and that can make scheduling even the most minor auto repairs feel like a hassle. That said, you shouldn't put off a task as crucial as brake repair just because it can be challenging to fit into your daily routine. If you neglect to fix minor brake problems when they pop up, it may save you some time in the present. However, it could also lead to much more expensive, time-consuming brake issues in the future. That means it's best to face these issues head-on as soon as possible.
The good news: even the most in-depth brake repair jobs can be done in less than a day when the ASE-certified brake mechanics at BRAKEmax handle them. On average, brake-related repair services will take between one and three hours for our brake shop to complete. Still, it's crucial to remember that this estimate could change depending on the actual brake repair services you need. Brake pad or brake shoe replacement can take mere minutes to finish, while creating new brake lines or replacing your brake system's master cylinder could take up to eight hours.
Of course, when you're already juggling work, family, and other responsibilities, not being able to use your vehicle for even a few hours can be a challenging proposition. And that's true even when you can simplify the appointment process by scheduling brake repairs online. With that in mind, BRAKEmax is proud to offer concierge service to our valued customers in our service area. If you are within three miles of a BRAKEmax shop, our crew can pick up your vehicle and return it once we've completed the brake repair or brake pad replacement-related tasks you need. Best of all, our concierge service is entirely free of charge!
The brake pads in disc brake systems are pressed by brake calipers onto the brake rotor (a rotating disc). The friction produced by the pads slows the rotation of the wheel. Because the friction they provide and the heat they produce causes wear with every application of the brake pedal, brake pad replacement should be part of your regularly-scheduled vehicle maintenance. By comparison, brake pads are referred to as brake shoes in drum brake systems.
If your brake pads are starting to wear out, you probably won't need to spend too much time wondering whether there's a problem. That's because worn brakes are notoriously noisy, making it obvious when it's time to bring your vehicle to your nearest BRAKEmax location for a brake repair service. If you notice squealing or grinding noises when you brake, your brake pads could almost certainly use professional attention.
Interestingly, the fact that worn brake pads make noise is no coincidence. These components come with a metal tab known as a "brake wear indicator." The tab starts rubbing against the brake disc when the brake pads wear out enough. That creates an unpleasant squealing sound, making it impossible for drivers to ignore their vehicle's need for brake maintenance.
While it may be tempting to put off brake pad replacement for as long as possible, this isn't something the experts at BRAKEmax would recommend. Brake pads are designed to allow for safe braking thanks to the presence of friction material. When this material inevitably wears away, your brake discs or drums will directly contact the steel that once held it in place. That will eventually damage your entire brake system, so be sure to make replacing worn brake pads a high priority!
In the past, brake systems almost exclusively used semi-metallic or asbestos pads. Today, most modern vehicles use a brake pad made of a ceramic composite. Compared to other types of brake pads, ceramic pads are quieter when the brakes are applied.
A brake rotor is the "disc" in a disc brake system and is connected to a vehicle's wheel. There are several kinds of rotors: blank and smooth, drilled, slotted, and drilled and slotted. Newer passenger vehicles usually have blank and smooth rotors.
When you apply the brakes, calipers squeeze together the brake pads against the rotors. The friction this process creates resists the wheel's spin, and slows the wheel's rotation. As with your brake pads, heat and friction cause continuous wear on your brake rotors, so it's important to have them regularly inspected to ensure you have dependable braking.
The rotors are the discs that your brake pads make contact with to top your vehicle. They're made of metal, so they wear down with use over time. Additionally, excessive heat generated while braking can cause the rotors to warp. When you have your brake pads replaced, a technician will "turn" or "resurface" your rotor, provided it has enough material to do so safely. This involves putting the rotor on a lathe and using an extremely sharp bit to cut into the rotor and create a smooth surface.
The calipers in your braking system are one its most important parts because they apply the pressure to the brake pads that stop your wheels. Specifically, when you step on the brakes, brake fluid creates hydraulic pressure on pistons in the caliper, which then squeezes the pads against the rotor, slowing it down along with the wheel.
As with most of the components in a brake system, use causes wear on brake pads. As the pads become thinner, pistons in the brake calipers compensate to help the worn brake pads reach the rotor. While the pads can be replaced, the pistons need to be retracted back into the calipers in order to be able to remove the pads. A special tool is needed for this. Although another tool could be used, it can damage both the pistons and the calipers.
If you have signs of brake problems, our technicians will inspect the entire system, including the brake calipers. Book an appointment for a free inspection today.
You can easily check your brake fluid yourself, but it's best to bring in your vehicle and have our technicians replace it. Brake fluid is highly toxic and can also ruin your car's paint.
Refer to your owner's manual for specific instructions for checking your vehicle's brake fluid levels. In general, you'll need to locate the brake fluid reservoir on the master cylinder. Take a look at the fluid itself to see if it appears dark or muddy; this is a sign that your fluid is dirty and is losing effectiveness. Also look at the lines that indicate the maximum and minimum levels. If your brake fluid is close to the minimum line, you likely need brake service.
As part of BRAKEmax's complete brake service, we will check your brake fluid to see if it's low or appears dirty and needs to be replaced.
We do! Please check our brake repair coupons page for special offers on everything from our premium brake service, brake fluid flush, lifetime disc brakes and more. Remember, you're always welcome to come in for a free brake check at all of our Tucson locations.
A brake light should never be ignored since it can indicate any number of problems, from simple to urgent. Here are some reasons a brake light may come on:
The parking brake is on: Make sure your parking brake is off. Driving with it on can add extra wear to brake linings. If the parking brake was on when you started your car and the brake light doesn't go off when you release the parking brake, don't go ahead and drive the car, because you have another, unidentified brake problem.
Your brake fluid is low: Low levels of brake fluid can cause the brake light to come on. You may have a leak in the brake system, which should be repaired immediately. Your vehicle's hydraulic system depends on brake fluid to stop your car and your brakes won't work without it.
There's an issue with your anti-lock braking system (ABS): Late-model cars may have a dashboard warning light just for the ABS, but for vehicles that don't, your brake light may be indicating a problem with the ABS.
There's an issue with a sensor: It's unlikely that a malfunctioning brake sensor is causing your brake light to come on, but it's possible.
There's an electrical issue: Your car's wiring may need to be checked.
First, Arizona motorists must understand what "brake replacement" entails. In some cases, you may need to replace braking components like hoses, steel lines, calipers, or even the master cylinder. But, in most cases, when people talk about replacing their brakes, they're really referring to their brake pads and rotors. Luckily, this is one of the most affordable and quick types of brake service available.
No matter how carefully you drive or how durable your brake pad materials are, these components will wear out eventually. In fact, since they work by creating friction to help slow your vehicle, you could even say they're designed to wear out. For the most part, drivers should consider replacing their brake pads around the 50,000-mile mark. However, this range can vary significantly—your pads may last up to 70,000 miles or need brake pad replacement after 25,000 miles.
Are you curious about why a car's brake pad life spans can differ so drastically? Some factors that affect the longevity of your brakes include:
The brake pads themselves.

Your brake pads may be "hard compound" pads (which are long-lasting and commonly seen on performance vehicles) or "soft compound" pads (which are ideal for low-speed travel, such as urban driving). Brake pad lifespan can also be affected by whether you use carbon-ceramic or steel brakes.

Where you drive.

If you live in the city, you'll have to contend with traffic lights and stop-and-start traffic. That means you'll need to brake more frequently, thus putting more strain on your braking system. Since careful braking is required when driving in mountainous areas, these places can also contribute to brake wear.

How you drive.

In general, do you brake abruptly or gradually? The latter approach is easier on your brakes. Still, even the most careful drivers can't avoid the need to slam on the brakes in some situations.
Our premium brake service includes:
A complete visual inspection of your brake friction and hydraulic system

Resurfacing of  rotors and/or drums where applicable

Replacement of your premium-grade brake pads and/or shoes

A check of your wheel bearings, which we will repack if applicable
We will be glad to give you an initial quote on any of our auto repair services. During your appointment, we will be able to give you a final estimate based on an inspection. No work will be done without your prior approval.
To keep your brakes in top condition and your vehicle operating safely, we recommend having your brakes checked every six months or 6,000 miles. In between those milestones, watch for these signs that it's time for brake service:
Squealing, thumping or grinding sounds
Yellow puddles of brake fluid
Less resistance in the pedal when braking
More distance needed to come to a complete stop
Pulling to one side when braking
Vibration in the pedal when braking
Our ASE-certified mechanics provide premium brake service that includes:
Visual inspection of the brake friction and hydraulic system
Resurface rotors and/or drums where applicable
Replacement of premium-grade brake pads and/or shoes
Check and repack wheel bearings if applicable
BRAKEmax regularly offers great savings on brake repair services. Check our coupons page, then print your coupon or bring it in on your phone.