Tire Replacement Service in Tucson, AZ
Our ASE-certified experts help you find the perfect tires for your vehicle
Come to the experts at BRAKEmax Tire & Service Centers for special savings and complete tire services, including:
Tire rotation
Tire repair
Wheel balancing
Tire pressure monitoring system (TPMS)
Tires for sale including trailer tires
Tire Rotation 
Proper tire rotation helps to extend the life of your tires. Consistent rotations allow tire experts to inspect the tires for adverse conditions that can negatively impact their lifespan. Catching these conditions early can minimize their damage to the tire.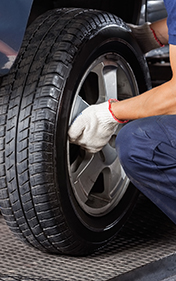 Tire Repair 
BRAKEmax associates follow the guidelines provided by the Rubber Manufacturers Association (RMA) for effective, safe tire repairs. These guidelines stipulate how tire seals and plug-fills must be done.
Wheel Balancing
To extend the life of your tires, it's important to have your wheels balanced. Unbalanced wheels wear down your tires.
Tire Pressure Monitoring System 
Also known as TPMS, this system measures the air pressure or rotational speed of your tires to determine whether they have the proper amount of air pressure. Since most tire failures occur due to under inflation, it is important to make sure this system is working properly.
Do your tires need to be serviced? Make an auto appointment at your nearest BRAKEmax location today.
Concierge Services
We understand how imperative it is that your vehicle is in proper working order. Because of this, we are introducing a new program designed with your security in mind.
The BRAKEmax Delivery Program is a no-cost concierge service to help you eliminate unnecessary trips outside your home. We will pick up your car from your location (within three miles of BRAKEmax) and return it to you free of charge after services have been completed.
Book Appointment
Your peace of mind is as important to us as it is to you. We promise to continue to do everything in our power to eliminate uncertainties and make your life easier. We hope that the BRAKEmax Delivery Program demonstrates our commitment to you, ensuring that you can safely be on the road when you need to be.
BRAKEmax is Tucson's top choice for tire services and repairs including tire rotations and wheel balancing. Our ASE-certified technicians use state-of-the-art tire equipment to efficiently and safely repair or replace your tires at a reasonable price. From road-force balancers, computerized alignment machines and procedures developed by the Rubber Manufacturers Association, there is no better place to get your tires serviced.
BRAKEmax is also your Tucson headquarters for trailer tires. Whether you need tires for your boat trailer, RV trailer, mobile home, or horse trailer, we have a wide selection of name-brand tires to keep you rolling. Make us your first stop when it's time for new trailer tires.
90.0%
WOULD REFER FRIENDS AND FAMILY TO US
BRAD R Customer since 2020

Good group of guys there and was driven back to work after dropping it off

CHRISTINA J Customer since 2020

First time at this new location near Costco Marketplace, Tucson. I asked to expedite oil change service in order to accommodate another appointment within the hour. They did everything to get me in and out quickly. Thoroughly inspected vehicle and found several additional recommended services from which we prioritized service and follow-up. I did not feel pressured and felt there was a strong customer care ethic in place. Clean and comfortable waiting room. I even think my car came back to me cleaner than when I left it. Very satisfied with service and would return and recommend to others.
Book Appointment
Frequently Asked Questions
Tire rotation is important and should be done according to the tire manufacturer's recommendation. Rotating your tires has a number of benefits, including:
Extending the life of your tires: The position of each tire on your vehicle causes each tire to wear differently. You can change the pattern of wear by moving tires to new positions, getting more miles out of them. If your vehicle has rear-wheel drive, your rear and front tires should change places and also change to the other side of the car. Front-wheel drive vehicles should have the front set of tires moved to the rear and rear tires to the front. Your BRAKEmax technician can recommend the tire rotation pattern that's best for your car.

Improving handling and ride: Uneven tread wear can cause all types of problems, from pulling the car to one side to excessive vibration from having the tires become unbalanced. Proper tire rotation can help prevent these and other types of performance and safety problems.
There are a few notable exceptions to the tire rotation rules. Truck tires, for instance, may be different on the front and the rear, so rotation may not be practical. There are also some types of vehicles with directional tires, which can be rotated but must be rotated in a specific way. Our expert tire technicians can help you determine when and how your specific tires should be rotated.
We offer major brands such as Goodyear, Kelly, Dunlop, Bridgestone, Firestone, Falken, and Yokohama. We also work closely with our industry partners to provide low-cost managers' specials in each BRAKEmax store.
Our expert tire associates can help you find the right tires at the right price. We not only have the best tire prices—we also have regular specials on our tire coupons page. We'll let you know about available mail-in rebates from tire manufacturers and how you can save by financing with your Goodyear credit card or CFNA credit card. At BRAKEmax, our low-price promise means we'll match lower, locally advertised prices from other shops, so be sure to bring those ads in when you come shop for new tires.
The life of your new tires depends on several variable factors, so a precise number of miles can't be predicted. These factors include:
Driving habits: If you commute in stop-and-go traffic, brake or accelerate aggressively, or drive long distances in extreme temperatures, you can put extra wear and tear on your tires.

Tire pressure: Maintaining the inflation pressure recommended by your vehicle's manufacturer is one of the best ways to extend the life of your tires. Check the label inside your driver's side door for specific PSI numbers for your car.

Tire rotation: You can significantly extend the life of your tires by having them rotated regularly. This breaks up tire wear cycles and prevents uneven wear. Front- and rear-wheel drive vehicles have differing optimal rotation patterns, so your BRAKEmax tire technician will recommend the one that's right for you.

Wheel alignment: Misaligned wheels can cause uneven tire wear. Even if your car isn't pulling to one side, poor handling when cornering or braking may be a sign that you need wheel alignment service. 
There are two quick ways to get an indication of whether it's time to replace your tires:
Wear bars: Tread wear indicators, also known as wear bars, are strips of rubber in tire tread grooves that become easily visible when your tire wears down to the level of the bars. 

The penny test: Place a penny in the tread groove with Lincoln's head down. If you can see the top of Lincoln's head, it's time to get new tires.
You can also inspect your tires to look for signs of wear or damage, such as:
Blisters, bulges, or other weak spots

Objects embedded in the tires

Cracks in tire sidewalls
If you have worn treads or notice other tire issues, BRAKEmax can help. In addition to new tire sales, we also provide complete tire services, including wheel balancing, tire rotation, tire repair, and more. As always, we make our tire services more affordable with regular special offers and coupons, and financing options when you use your BRAKEmax VIP CFNA credit card or Goodyear credit card. Not yet a BRAKEmax VIP CFNA cardholder? Apply today and enjoy a card with no annual fee and stress-free financing with low monthly payments.
Tire balancing is important for optimal performance on the road. Also known as wheel balancing, this service can help prevent uneven tire wear and vibrations in your vehicle's steering wheel and passenger compartment. Anytime you have a flat tire repaired or have your tires rotated, it's a good practice to also have your tires balanced. 
Even if you're fortunate enough to never need to put mileage on your spare tire, it still needs replacement after about 10 years. You should follow the replacement recommendations of your vehicle's manufacturer if it offers specifications. You can check to see when a spare tire was made by looking for the date on the tire's sidewall. The last two numbers indicate the year the tire was made.
The same type of tire should be used in each position for optimal driving performance and for the life of your tires. There are some exceptions, such as vehicles that deliberately have different sizes of tires on the rear and the front. Generally, all four tires should be all radial or all bias-ply, be the same size, have the same speed ratings, and have the same tread patterns. Your local BRAKEmax tire technician will be able to recommend the replacement tires that are best for your vehicle.
Tire markings aren't as confusing as they first appear! Our article on How to Read Your Tire explains all of the indicators for tire size, load rating, speed rating, and maximum inflation pressure. It's important to note that you should refer to the label inside the driver's door for the tire pressure that's recommended by the vehicle's manufacturer rather than the maximum inflation pressure number that's on your tires.
An online search for "tire repair near me" will show you the tire shops in Tucson closest to your location, but it may not show you where to go for the best price on tire services. When you have a flat tire and need a patch-plug, or any other type of tire repair, you'll always find the best service and great savings at your nearest BRAKEmax location.
BRAKEmax is your one-stop shop for tire services in the Tucson area. We can take care of all of your needs, including tire rotation, tire repair, wheel balancing, and more.
If you're looking for great tire deals, check with BRAKEmax first! On our tire coupons page, you'll find special offers that make purchasing new tires more affordable. You can even combine our tire coupons with manufacturer rebates for even more ways to save.